The vast majority of pupils make good to outstanding progress within a structured curriculum which aims to meet pupils' individual needs, to help them on the journey to become successful learners, confident individuals and responsible citizens.
The curriculum meets the statutory requirements of the National Curriculum (NC) and the learning needs of its pupils, all of whom have a Statement of Special Education Need (SEN)/complex learning difficulties.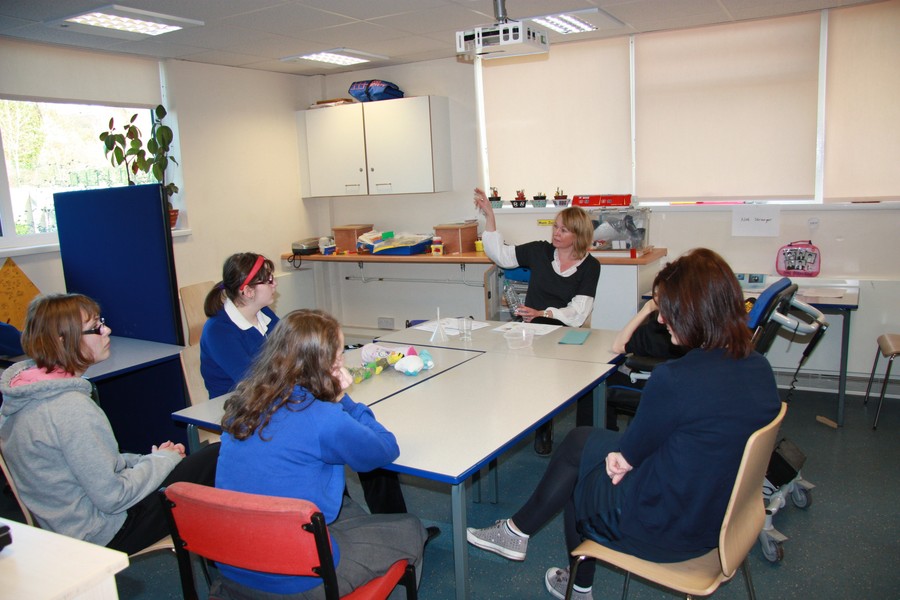 Long term planning is in place for all subjects and is organised in cycles within Upper School (Y9-11) and Lower School (Y1-8) taking account of Key Stage requirements. This ensures that pupils will cover new material each year even though they may remain in the same class for more than one year.
Lower School Key Stage 1 - 3 years - Badger Class (Y1-5)
Key Stage 2/3 - 3 years - Butterfly, Squirrel, Fox and Hare Classes (Y6-8)
Upper School Key Stage 3/4 - 3 years - Rowan, Maple and Cedar Classes (Y9-11)
Attainment in Maths and English is good to outstanding. Generous time is allocated throughout school for these subjects. Rigorous and effective assessment using the PIVATS system is recorded on INTEGRIS, tracked against Progression Guidance and informs aspirational target setting and planning.
Speech, Language and Communication is well developed through school. The SALT assesses and plans programmes to be delivered in group and one-to-one sessions by the school's Inclusion Officer (S&L). Classrooms are communication rich environments with all staff trained in MAKATON and AAC used in all lessons. This enables all pupils to access and engage with a curriculum which is appropriate and personalised.
Life Skills has been a priority area for development for the last two years. This has lead to a well planned individualised programme based on taxonomy of skills assessment.
The Early Years/Primary Class is a play based learning environment where routines and continuous provision support child-led learning. There is a strong focus on the three prime areas from the Early Years Foundation Stage Curriculum (Personal Social and Emotional Development, Physical Development and Communication and Language).
The Lower School (Key Stage 2/3) classes build on a play based experiential curriculum with a strong emphasis on nurture. Planning is informed by National Curriculum and Primary Strategies. Foundation subjects are covered using a half termly themed approach. Maths and English are taught discretely and also through themes.
In Upper School we develop our "Three Pathway Curriculum": one group follow strong routines and structures in a low-sensory environment more suited to those with strong autistic traits; another group has a more activity-based, sensory curriculum; our most able group follows a more academic curriculum with a strong emphasis on life skills. Students participate in work related learning activities such as work experience in Y10 or Y11, enterprise afternoons and industry days. The curriculum is enriched with optional drama sessions, D of E sessions and outdoor activities for all. External accreditation includes AQA GCSE and ELC in Maths, English, DT, Art and ICT, ELC in Science and ASDAN accreditation.
Our Three Pathway Curriculum
Underpinning everything in this school is a commitment to the principles of Nurture as developed by Marjorie Boxall. Almost all of our young people struggle to make sense of the world socially and emotionally, and this causes them high levels of confusion and anxiety. Anxiety is the enemy of true learning. We work to create a safe, supportive, positive environment with a family-like feeling. It is a systematic approach to developing behaviour for learning.
Within that we find we have three groups with widely differing needs, especially as they get older. We have a more able group who may one day be fully independent. We have another group who have a higher level of need, and whose learning is still at the level of a very young child. We also have a group on the autistic spectrum. For this reason we have developed our Three Pathway Curriculum, each with its own specialist approach.
Upper School Experiential Pathway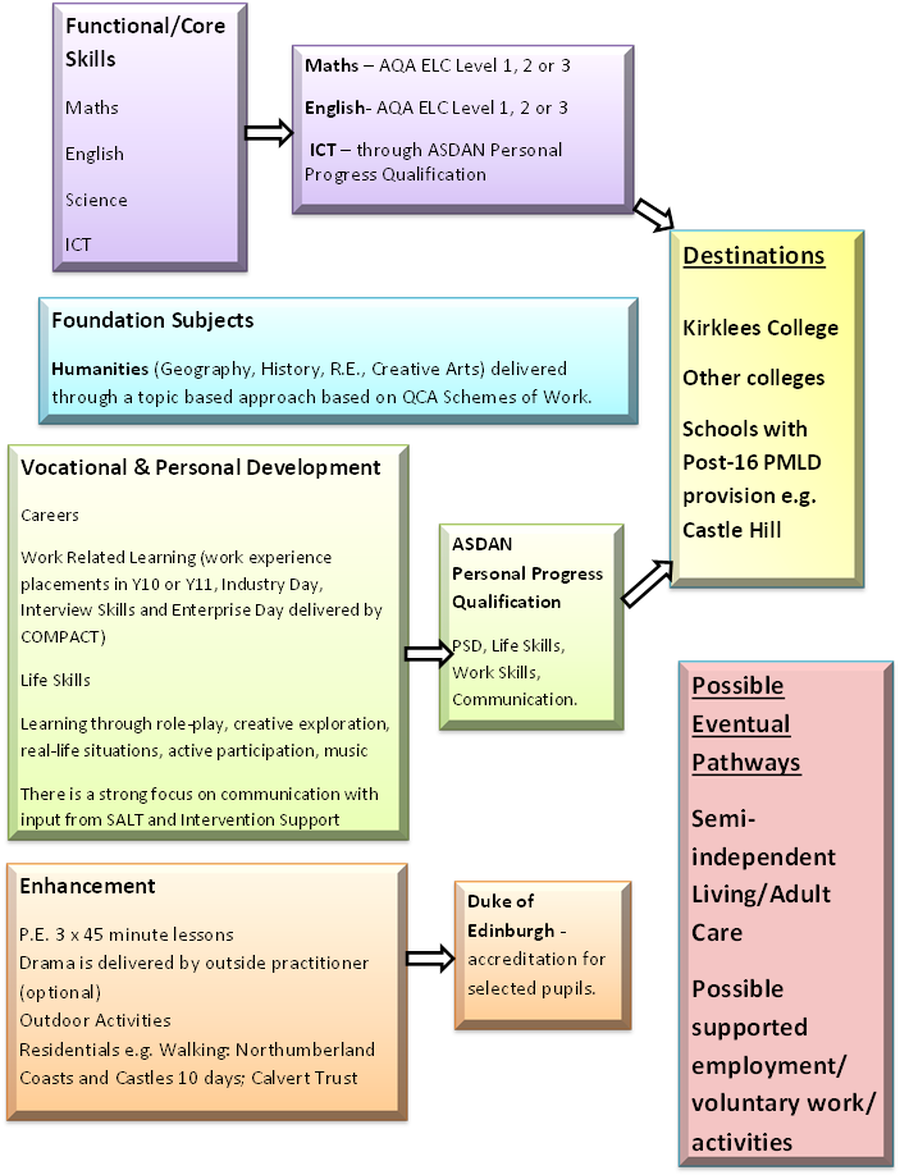 Upper School Academic Lifeskills Pathway